Post production
Understanding file-based workflow, from editing and finishing suites through ADR and mix rooms, is necessary for a successful Post-Production system integration design. Throughout the creative process, content creation companies need to be effective and dependable. The tools and network architecture needed for users to share media and work together without duplicating data across a SAN network must be provided by a good post-production system integrator. If you planning to construct or maintain an audio post-production room, a video post-production room, a color room, a shared storage system, or an internal network, your first option for proper system integration is TSI. For more than 10 years, we have offered design and installation services to small and large post-production companies. Our team of experts works closely with OEMs to provide of technology for post-production to create highest quality workflow for AV content creation.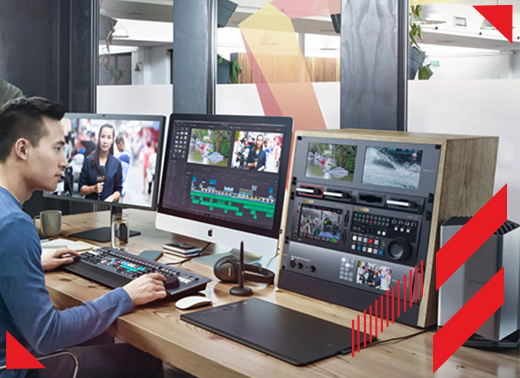 Audio & Video Edit Suites
Make sure your post-production video suite is designed, installed and supported by a system integrator that knows that what is to be done. TSI has been at the forefront of professional audio-video post-production suites integrating edit, color and finishing suites for nearly 10 years. The Trendsetters difference comes from our onsite and 24/7 support and training services for digital signage customers- ensuring your system has the human touch necessary to make your job easier. Designing a solution to communicate your brand message is our expertise.
Network Storage
Bring in an audio-visual system integrator to improve your facility's general usability and network functionality. A building requires a network infrastructure that is neatly wired, effectively planned, and simple to upgrade for future additions. A systems integrator, such as TSI, may assist in designing or upgrading a workflow using depth of expertise with similar arrangements, regardless of whether your facility is wired for SDI, BNC, fibre, or ethernet. To ensure that your product is installed and upgraded correctly—the first time around—our technical expert is trained to install a wide range of products. For customers of digital signage, TSI offers onsite and round-the-clock support and training services, ensuring that your system has the human touch required to make your job easier. Our area of expertise is designing a solution to convey your brand's message.